The quality of service is a matter of the heart for us
We take care of you to get the most out of your investment, get help quickly when needed, and avoid unnecessary production downtime. We want to offer you the best services because we know how important a smooth production is to you.
HelpDesk's experienced Engineering team will assist you with non-urgent technical support issues and when you need a replacement part. You can leave a request to contact the HelpDesk at any time. For immediate support, leave your ticket or call the 24/7 Service Hotline, where the Automation team attendant will assist you remotely and by phone 24 hours a day.
With the popular fixed-price OnLineCare ™ and OnSiteCare maintenance agreements, you ensure high utilization of your equipment and anticipate maintenance costs
My team and I are ready to serve.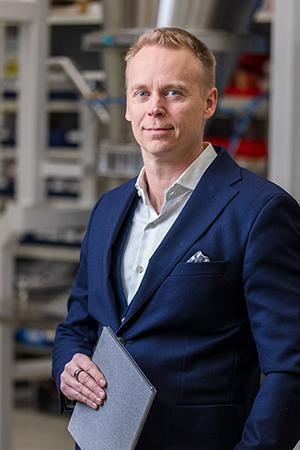 Want to know more? Download the service brochure
Artisan / Industrial Line  products
24/7 remote access to your devices with a popular maintenance agreement and you are protected
Easy, comfort and pro levels to suit your needs
Proactive care with a maintenance contract
Assembly and testing service for your equipment at the Powdea Technology Center in Kotka
Take a Powdea specialist for instructions on installing the equipment
Our equipment deliveries always include customized user training for our customers' personnel
Bring new life to your powder dispensing equipment and elevate them to Industry 4.0 with IoT data collection and reporting.
Get the most out of your hardware with Powdea's process optimization service
This is how our service works
Our certified service model in accordance with the ISO9001: 2015 quality system guarantees a professionally managed project from start to delivery. We promise you reliable service at every step.
A Teams or on-site meeting will review the goals, manufacturing process, and equipment of our joint project.
The concept, hardware and layout of the plan are presented using 3D modeling.
ISO9001 compliant project management service and dedicated project leader for the duration of the project.
pre-installation and testing
Installation and assembly is done before shipment to ensure both quality and functionality
Every shipment is inspected and verified. We will inform the customer of the time of shipment.
Transport and installation
We deliver the equipment to its destination and install it safely and correctly in its right places.
We train people to use and monitor the software.
We ensure trouble-free operation remotely and with a fast response time
We take care of the condition of the equipment with maintenance and spare parts services
Check out the expert articles
Powdea has strengthened its engineering team by recruiting Jussi Kangasniemi (Bachelor of Science) as a new project engineer
We have strengthened our technology team by hiring a product development engineer  Riikka Kousa
Powdea is investing in growth by investing in the expansion of the Technology Center
The Powdea Technology Center has bThe new product development and testing hall will significantly speed up production
We are proud to announce that we have recruited Petri Taskinen to lead Powdea's assembly and installation team